Our Capabilities
SM Metal provides one-stop engineering solutions covering sand casting, lost wax casting, forging followed by machining and trial assembly. We are equipped for a full manufacturing process comprising pattern making, material selection, casting method selection, heat treatment, complete machining, testing and trial assembly.
Our dedicated team works closely with our customers to positively impact their businesses through fit-for-purpose product functionality, time-efficiency and/or cost-effectiveness of their operations. This is achieved through bespoke services including reverse engineering, manufacturing, logistics; and differentiated through critical documentation and stringent traceability capabilities.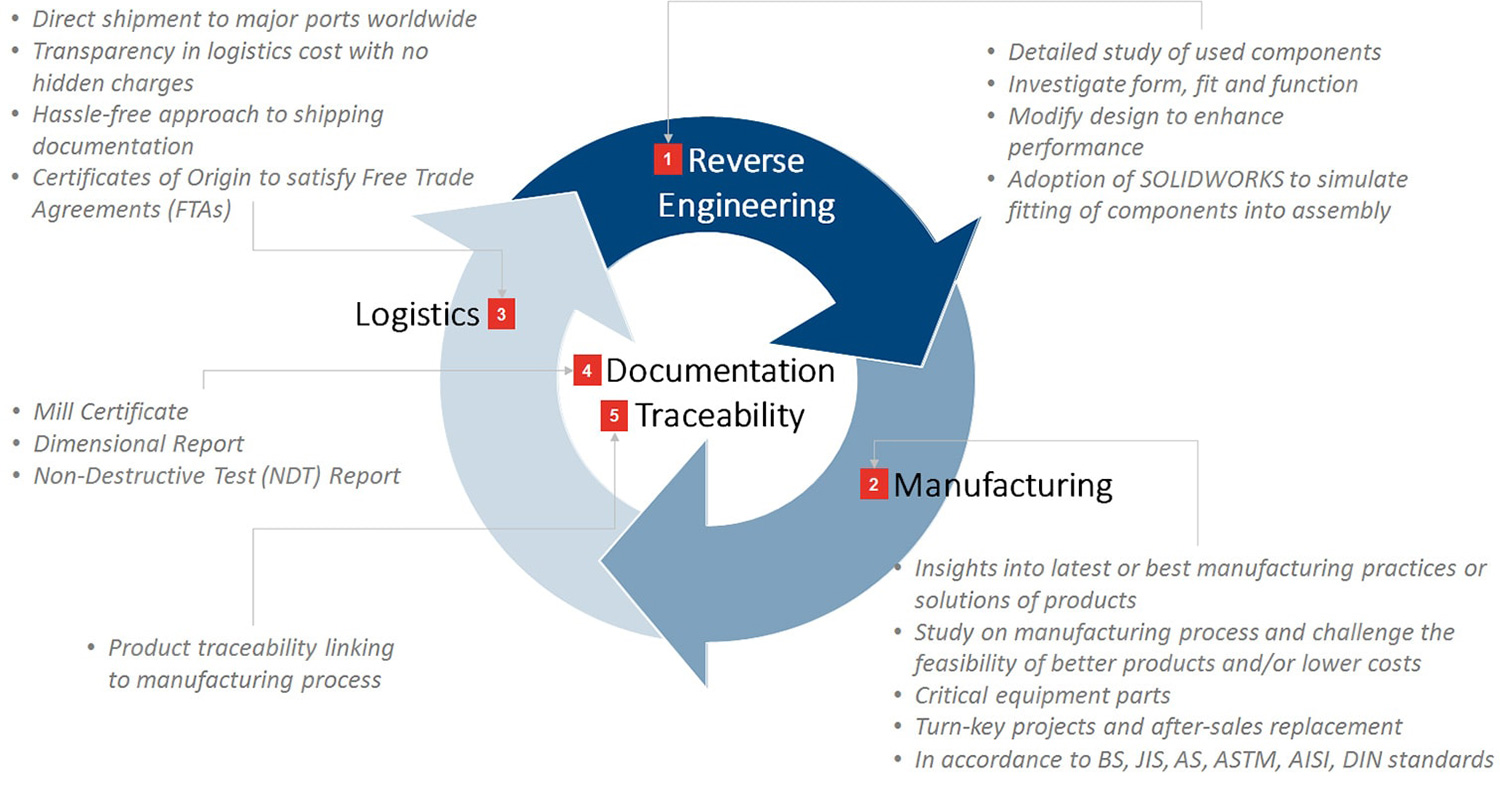 The industries we serve include Mining & Quarry, Bulk Material Handling, Precast & Brickworks, Cement Processing, Waste-to-Energy (WtE) and General Engineering.
INDUSTRY STANDARD COMPLIANT
Our manufacturing complies with the following leading industry standards:
ASTM A781 / A781M-18a, Standard Specification for Castings, Steel and Alloy, Common Requirements, for General Industrial Use.
ASTM A802-95(2015), Standard Practice for Steel Castings, Surface Acceptance Standards, Visual Examination.
MSS SP-55(2011), Quality Standard for Steel Castings for Valves, Flanges, Fittings, and Other Piping Components - Visual Method for Evaluation of Surface Irregularities.
ISO 8062:1994, Castings – System of Dimensional Tolerances and Machining Allowances.
SIZE / CAPACITY RANGE
We have the capabilities and capacity to produce:
Casting: up to 18tons
Forging: Up to 20tons
Shaft: Up to Ø300mm X 10,000mm length
ACCREDITATIONS
Our quality management system fulfils the requirements of and conforms to:
EQAIMS JAS-ANZ ISO9001:2015
EQAIMS SAC ISO9001:2015
bizSAFE Level 3
GEOGRAPHICAL REACH
Headquartered in Singapore, we have had the opportunity of working with customers in numerous South-East Asia countries, Australia, New Zealand, USA and Canada.